Have you read that skipping is effective at burning fat and building fitness? You've been jumping rope for a while, but don''t know if you have the right skipping rope? Do you not know what the correct length of the skipping rope is for your height?
If you belong to any of the mentioned groups, we will help you choose the right skipping rope just for you, set the right length, teach you to jump it correctly, and offer tips for varied training with the jump rope.
How to Choose a Jump Rope
Selection of jump rope according to material
There are plenty of skipping ropes. The material greatly affects the speed of the skipping rope and predestines it for a certain type of sport or exercise. Choose the right one with us.
Plastic Jump Ropes
Skipping ropes with a PVC cable are especially suitable for beginners. Their indisputable advantage is that if you don''t make the jump, swinging with a soft plastic skipping rope hardly hurts. Plastic skipping ropes are very light, which makes them slow at the same time: so if you are already jumping over a skipping rope for a while or if you want to learn more advanced elements (such as double-unders), we recommend that you consider steel.
Is the plastic skipping rope suitable for you? If you are a beginner and your jumping is often accompanied by unsuccessful attempts, or you often train on a rough surface outside the gym (gravel, roads, parking spaces in front of the house), do not hesitate and get it.
Steel Jump Ropes
Steel jump ropes hide a very thin cable made of steel covered with nylon or PVC. They often have removable handles, so you can change the length of the skipping rope or replace the worn-out cable with a new one. They are referred to as speed ropes: thanks to the steel cable, these skipping ropes are very fast, so they are suitable for advanced athletes, or for individuals who want to learn heavier elements on the skipping rope. Surely you can buy this skipping rope even at the beginning, it has only one disadvantage: the swing is a very painful affair. :)
Is the steel skipping rope suitable for you? Do you jump often and do you want to learn double-unders (or do you already know how to do it, and want to improve)? Are you a Cross Training fan? Or do you need to work with different lengths of the skipping rope and readjust it? Then a steel jump rope is a clear choice.
Leather Jump Ropes
Leather skipping ropes have a thin leather cord and are most often used by boxers. Their price ranges in higher numbers (around 40€), but you pay for the quality - the leather cord has a really long life.
Cotton Jump Ropes
Probably every one of us has experienced elementary or high school skipping ropes. They last a long time and are relatively cheap. Compared to a plastic skipping rope, they are faster, compared to a steel skipping rope, slower. Swinging with a cotton cord is much less painful than with a steel one. It is, therefore, suitable for children (painless unsuccessful attempts are the first step to successful ones), or for jumping on a rough surface (path with stones, etc.) that would damage the steel cable.
Which Handles to Choose?
A simple rule applies to the handles of the skipping rope: "the smaller and lighter, the better". The optimal size of the skipping rope handle is about the length of the palm from the fingertips to the wrist.
Still wondering which skipping rope to choose? The Top4Fitness team recommends skipping ropes with steel wire and ball bearings in the handle, which are light, fast, compact, and durable. Besides, you will definitely not make a mistake with the Elite SRS Surge 3.0 Jump Rope.
Something Extra
Jump Rope with Bearings
The skipping rope with bearings in the handle further increases the potential jumping speed by reducing the resistance when turning the cable. They are great for Cross Training, for boxers, or for frequent and fast jumping.
I want a jump rope with bearings
Jumprope for Kids
In most shops, you will also find a children's jump rope, which fits perfectly in tiny hands. We recommend the Power System Cross Jump rope, which has a soft PVC cable and an easily adjustable length (which you will appreciate when raising the smallest member of the family).
You can also get skipping ropes made exactly for a specific sport - gymnastic jump rope, fitness jump rope, boxer rope, or jump rope for Cross Training.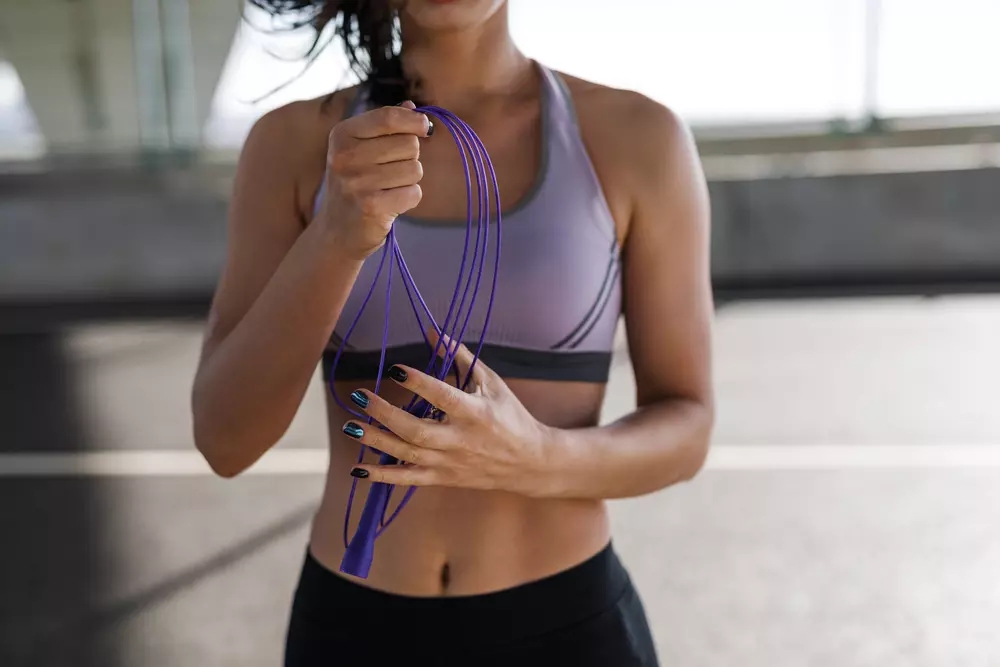 The Correct Length of the Jump Rope
In addition to the type of skipping rope, it is important to select or set the correct length.
< 150 cm body height – 2,10 m jump rope length
160 -170 cm body height - 2,50 m jump rope length
170 – 180 cm body height – 2,75 m jump rope length
180-190 cm body height – 2,85 m jump rope length
> 190 cm body height – 3,00 m jump rope length
You can easily test the correct length. All you have to do is stand in the middle on the selected jump rope. The ends of the handrails should reach your armpits. Do not underestimate the skipping rope length setting. Too short or long will spoil your proper jumping technique. The short jump rope tends to crouch the legs. Too long of a skipping rope leads to pulling the hands away from the body or to stumbling. For jump ropes with adjustable cable length, cut off the excess cable (with pliers), otherwise, it will prevent you from jumping.
How to Jump Rope Correctly
Have you already bought the right jump rope for you? Great. In addition to comfortable sportswear, you only lack quality shoes. We definitely do not recommend jumping barefoot. The impacts are demanding on the feet and joints of the whole body, the shoes dampen the impacts. Also, flicking the bare feet is not entirely pleasant. You can jump at home, outdoors or in the gym. The softer the terrain, the softer the impacts, the lower the weight on the joints.
Since jumping rope is a cardio activity, you only need a moment of dynamic stretching and activation before jumping. Focus especially on the calves, arms, upper back, and core.
Jumping is no science. Come with us to see how to use the right technique.
Hold the jump rope by the handles. Hold it tight but release your wrist.
The cable is behind your feet.
Keep your head upright and relaxed.
Shoulders print from ears down.
Bend your arms at your elbows, keep your elbows close to your body.
Jump over toes, not over heels or the entire foot.
Don't stomp, it's a light and graceful moment.
Don't bend your knees while jumping, keep your legs outstretched.
All movement of the upper half of the body comes from the forearms wrists.
Breathe regularly, don't hold your breath.
Jump Rope Exercise
The skipping rope serves as a great exercise aid. You can use it to warm up as part of a workout or jump as a workout on its own. Either way, you won''t make a mistake with either option. This is a complex exercise. You warm-up and exercise your whole body. You will increase your condition. You can try various tricks and exercises. You don''t need special space. You get a lot of endorphins because jumping is fun and so different from other types of exercise. Last but not least, you burn a considerable amount of calories. A 65 kg athlete burns a beautiful 130 kcal in 10 minutes of jumping.
See which muscles you can train with the right jumping technique: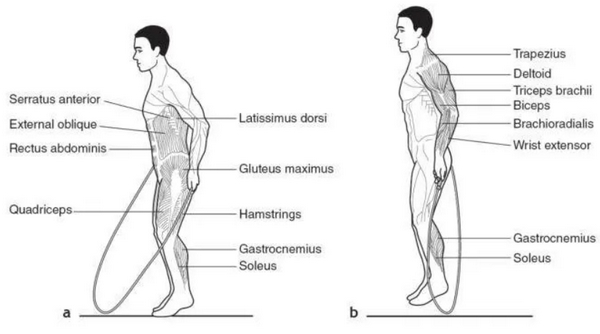 Picture source: crossfitmagnitude.com
There are many variations of jumps: simple jumps, double-unders, jumping on one leg, jumping backwards, criss-cross, and more. There are no limits to imagination. Try to play with a skipping rope and learn different elements.
Tips for Training with a Jump Rope
Before each jump rope training, don't forget to warm up and stretch dynamically (the exception is the demonstration of jump rope training as a warm-up). After training, don't miss stretching the calves and muscles in the shoulders.
Jump rope as a part of warm-up:
30 s jump rope
30 s hopscotch
30 s running on the spot
30 s high knees
3 rounds, followed by classic training
Jump rope training:
50 s single unders/ 10 s rest
50 s jumps on the right leg/ 10 s rest
50 s single unders/ 10 s rest
50 s jumps on the left leg/ 10 s rest
50 s single unders/ 10 s rest
50 s jumping backwards/ 10 s rest
50 s single unders/ 10 s rest
50 run over rope/ 10 s rest
50 s single unders/ 10 s rest
50 s double-unders/ 10 s rest
50 single-unders/ 10 s rest
3 rounds, 1-minute rest between rounds.
Jump rope as a part of training:
Annie (Cross Training workout)
50-40-30-20-10 reps for time
Double-unders
Sit-ups
First, you jump 50 double-unders (or 100 simple-unders), then you do 50 sit-ups. You continue with 40 double-unders, 40 sit-ups ... etc.
Training with kettlebell and bodyweight:
5 Rounds:
50 single unders
40 air squats
30 kettlebell swings
20 s hollow hold
Tabata
1. round single unders
2. round bicycles
3. round single unders
4. round sit-ups with external weight and outstretched legs
5. round single unders
6. round lunges with external weight
7. round single unders
8. round squats with external weight
One round consists of an interval of 20 s / 10 s - 20 s work, 10 s rest - 8x one exercise (eg skipping rope), followed by a 1-minute pause and you go to the second round (eg bicycles).
Want to know more about Tabata? Read our article Tabata Exercises: What Exercises Are Most Effective.
Circuit Training
1. single unders
2. strict press with dumbbells
3. leg raises
4. burpees
5. walking lunges
6. tricep dips
7. squat with external weight
8. mountain climber
9. kettlebell swing
10. plank on the gymball
11. box in place with dumbbells
12. sit-ups on the gymball
30s work, 10s rest; a total of 4 rounds, after each round 1-minute rest
You will definitely fall in love with jumping rope. In addition to a pleasant fun workout, you will burn a lot of calories, soak up your fitness, and, thanks to post-workout endorphins, you will positively tune your mind. According to the results of studies, skipping improves overall coordination, balance, and fitness. Did we convince you? Do you already have your jump rope?
Sources
BAKER, Joseph, Jeane COTE a Bruce ABERNETHY. Sport-Specific Practice and the Development of Expert Decision-Making in Team Ball Sports. Journal of Applied Sport Psychology [online]. 2003, 15(1), 12-25 [cit. 2021-04-02]. ISSN 1041-3200. Dostupné z: doi:10.1080/10413200305400
Bobbio T., Gabbard C., Caçola P. (2009) Interlimb coordination: an important facet of gross-motor ability. Early Childhood Research & Practice 11, n2.