Breasts bounce. A direct and blunt introduction to an immensely important subject area. But that's the way it is: Breasts bounce. And this in a figure eight motion, where the ligaments of the breast stretch during the sport. If you don't support this movement with the right sports bra, this can lead to chafing, breast pain, breast sagging, loss of performance and discomfort. So, the sports bra has magic in it - the magic of making chafing disappear, improving your performance and turning self-doubt into confidence. All you need is the right one - and luckily this undertaking is not as difficult as finding the perfect man for life.

Together with Nike we have dedicated ourselves to this topic: 5 different women, 10 different breasts, one common goal: to find the perfect sports bra and to develop a guide for all women who still haven't found the right one. And according to current statistics, this is 70 percent of all women. Fascinating when you consider that 43.9% of all women in Germany are married and have supposedly found the partner for life. So maybe it is easier to find the perfect man than the perfect sports bra after all? If you previously held this opinion, you definitely don't think so after this article anymore.
For the choice of the right sports bra you should consider two criteria: Your cup size and the impact level of your sport. In the following we will explain what we mean by these criteria and at the end we will give you a well-founded recommendation on the most suitable sports bra models for your individual needs.
The Impact Level of Your Sport
When choosing a sports bra, the impact of the sport on breast movement is of particular importance. Or in other words you could ask yourself: "How much do my breasts bounce during sport". We distinguish between the following levels: Light Impact, Medium Impact and High Impact.
Light Impact sports are for example Yoga and Pilates. These are sports with low exposure, slow movements and ideally no jumps. The breasts do not move that much and therefore only need little support. But that does not mean that you can skip the sports bra for these sports! Even if you only go walking or do a round of yoga at home where nobody sees you: It can still cause damage and loosening of the connective tissue. And I'm sure you don't do sports to get a sagging bosom sooner - so maybe you should slip into the light sports bra more often.
Medium impact sports include strength training and spinning. These sports are associated with faster movements and now jumps are also allowed- but only in moderation and with a bit of bounce. So, the sports bra must be able to compensate more movement.
High impact sports are running, soccer, tennis, boxing, or dancing. Thus, any activity that causes a lot of movement in the breasts and therefore requires a high level of support.
Since you are most likely doing more than one sport, this means that you will need different sports bras for different sports.
The Size of the Sports Bra
To find the perfect sports bra, you need to know your correct bra size. You've never heard the words "band" and "halter"? Then you should definitely not skip this criterion and quickly pull out a measuring tape.
Band: Measure around your ribs just below your breasts. Ideally you should remain relaxed and breathe out. So, don't hold your breath and cheat, because in doing so you are only cheating your breasts! It is best to let both arms hang down while measuring. Of course, this is only possible if you have someone to help you. Otherwise you can still let one arm hang relaxed while the other one takes over the measuring.
Halter: This refers to the distance from apex to apex over the neck. And yes, I can feel the question marks in your eyes practically through the Internet - don't worry, I had no idea what it meant at first, too. So: The Apex is the fullest, most prominent part of your breast. The largest breast circumference can be in the upper or lower part of the breast - this varies from woman to woman. And now you measure from the right most prominent point of the breast over the neck to the most prominent point of the left breast. And that's it: This is your halter size.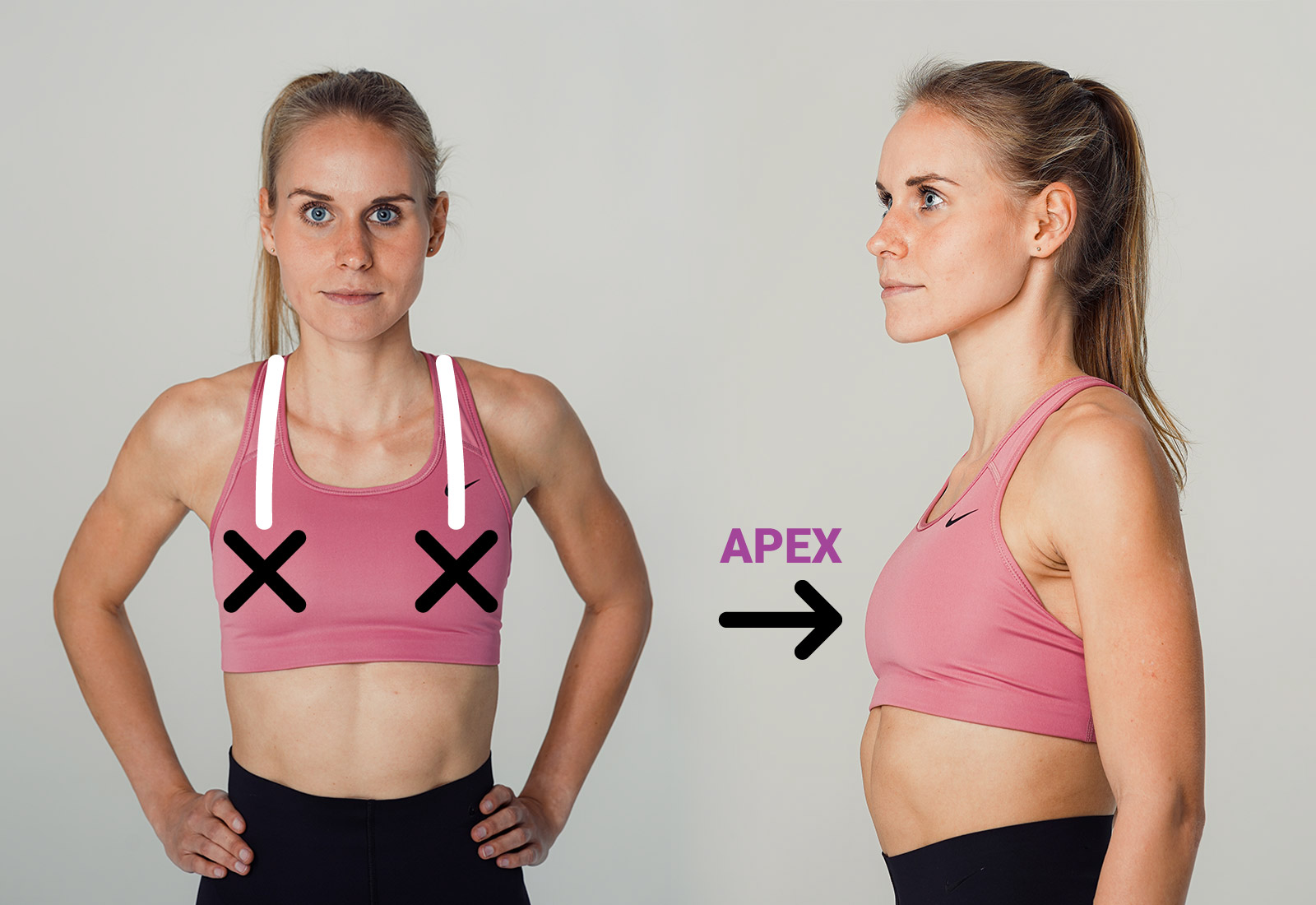 So, we now have two measurements and of course there is a nice size chart. Sports bras from Nike are available in sizes XS to 2XL. And now you just must find the right size based on your measurements. With the grey shaded sizes, the probability that this size is perfect for you is very high. If you end up with a non-shaded size, it is recommended to start with this size and then move on to the adjacent sizes.
And finally, the feel-good check:
Does the bra cover the entire breast?
Does it stay in place during physical activity?
The straps do not pinch, cut in or interfere with anything else?
You wear functional material?
And you also like yourself in the sports bra quite a lot?
When you have placed 5 checkmarks, you are already really close to your perfect sports bra.
Your Perfect Sports Bra
As unromantic as it sounds, the following formula holds the key to success:
Impact level of your sport + your breast size = support level of your sports bra
This means that for high-impact sports (running, soccer, tennis, boxing, dancing, etc.) you need a sports bra with high support regardless of your cup size.
Conversely, women with a large cup size (Bra Cup L to 2XL) also need a sports bra with high support regardless of the type of sport.
In all other cases it is the interaction of the breast size and the type of sport that determines the optimal sports bra and therefore the best possible support.
An overview is given in the following graphic: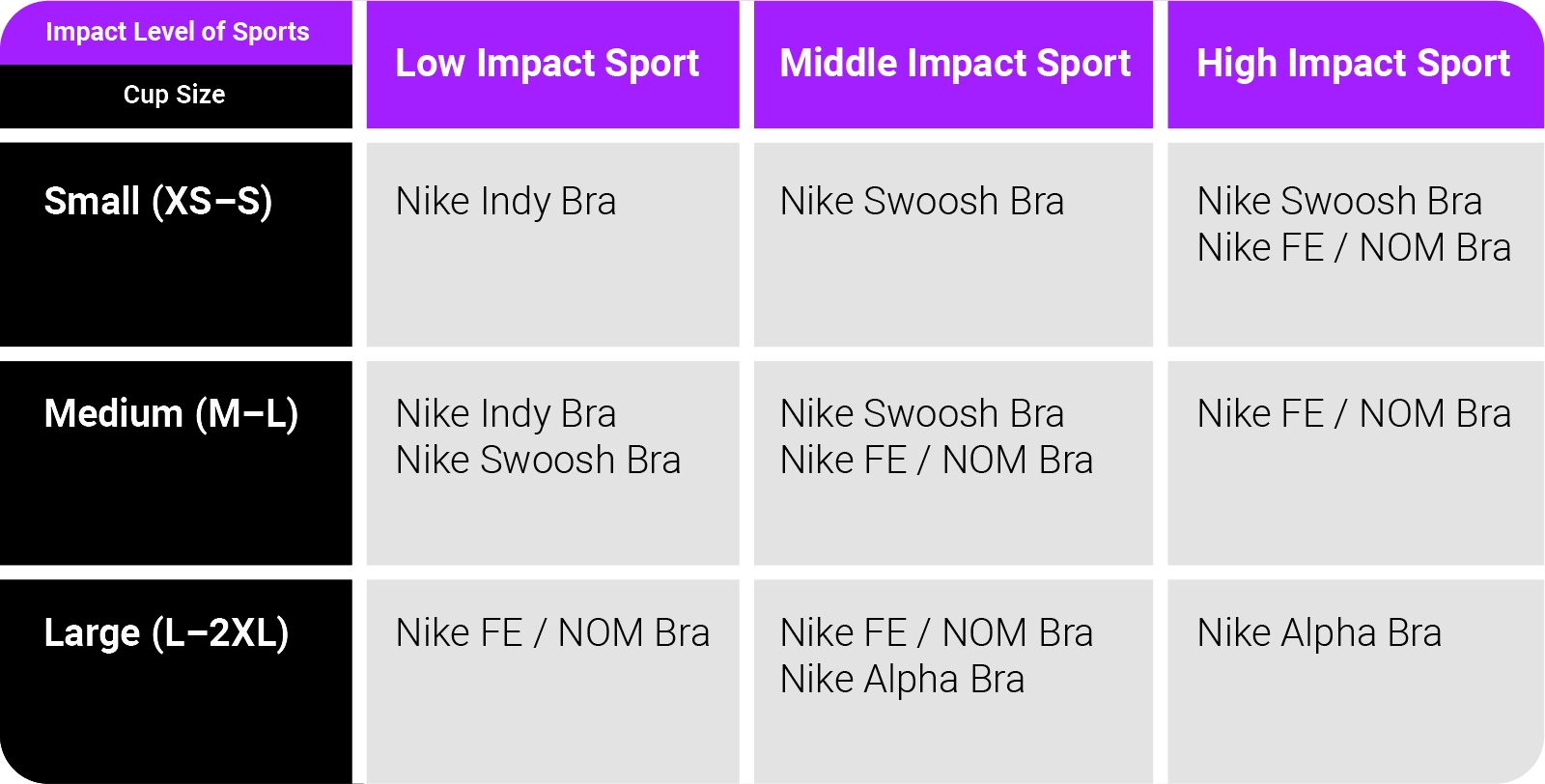 It is important to note that these are only recommendations. If you prefer a sports bra with a stronger support even during a low impact sport, that's perfectly ok.
The Proven Classics From Nike
Let's take a closer look at the hot candidates for the title "perfect sports bra".
The Indy bra is designed for all-day wear and comfort. These bras are softer and less structured—ideal for smaller cup sizes and low-intensity activities.
The Swoosh Bra offers more coverage, wider bra straps, and higher compression than the Indy Bra. This provides more support with the same comfort. It is available with and without padding.
The Flyknit FE/NOM Bra stands for stretch, high support, a secure compression feeling and a minimal bounce movement of the breasts. It offers high comfort, strong straps and built-in cups to hold you in and take the pressure off your shoulders. This sports bra is designed to be the lightest sports bra for high-impact sports. This makes it suitable for every woman and any sport.
The Nike Alpha Sports Bra is built to hold you in when you take off. The pre-formed cups provide a compression fit for a great grip. An adjustable fastener on the back allows for an individual fit. This gives you the strongest support among our Nike classics.
I Want My Nike Alpha

Do not forget: Every woman is individual and that is a good thing!
During the shooting it became clear to me how different we all are when it comes to choosing a sports bra. At first glance, we may all seem very similar, but if you take a closer look you can see the differences very clearly. While some of us reach directly for the brightest sports bra, others are more reserved and prefer neutral tones. Likewise, there are different preferences when it comes to the level of support. If you feel most comfortable doing static stretching exercises in a sports bra with strong support, why not? And even if you feel much more comfortable in a different size or with a different support, that's perfectly okay. The most important thing is that YOU feel comfortable and do not feel any pain. I think for every woman it is an overcoming to stand in front of a camera in a sports bra. No matter how satisfied she is with herself and her body. But in a sports bra, where you feel comfortable, which you like and which feels good, it is much easier. And that should be our goal: to feel confident and good in a sports bra.
My Conclusion
The sports bra is the ultimate weapon for women in sports. Immensely important and powerful. It can turn a workout into a torture. It can make you jump wildly back and forth in the shower because of all the chafing. It can weaken your self-confidence.
But it can also give you a lot when you have found the right one. With the perfect sports bra, you hardly notice that it is there. It should feel light and casual. Give support without restricting. Be a support without demanding too much attention. Just like the perfect man - only easier to find. Just like the perfect bosom friend.