Of course, you can't have your dream glutes without work. But the good news is that you only have to work hard for a few weeks and you can proudly display your sculpted bum in tight jeans.
How To: The Bum of Dreams
Some have a beautiful booty by nature, but most of us are not so lucky. Genetics weren't so generous to you either? Do you want to feel unashamed of your appearance in leggings? Do you want to stay worry free about being seen in a swimsuit or underwear from behind? Train with us and read our tips. We will build the booty of dreams.
TOP Exercises for Shaping the Butt
Our exercises are simple and can be adjusted to suit both beginner and advanced levels of fitness.
How to exercise to make it work?
Include butt exercises in your routine at least 2-3 times a week.
Before the actual workout, warm up with cardio for about 5-10 minutes.
For all exercises, try to focus on the butt: feel it and contract it.
You will need:
Bench, gymnastic ball, external weights (kettlebell / one-handed barbell / bar / sandbag).
Supported Squat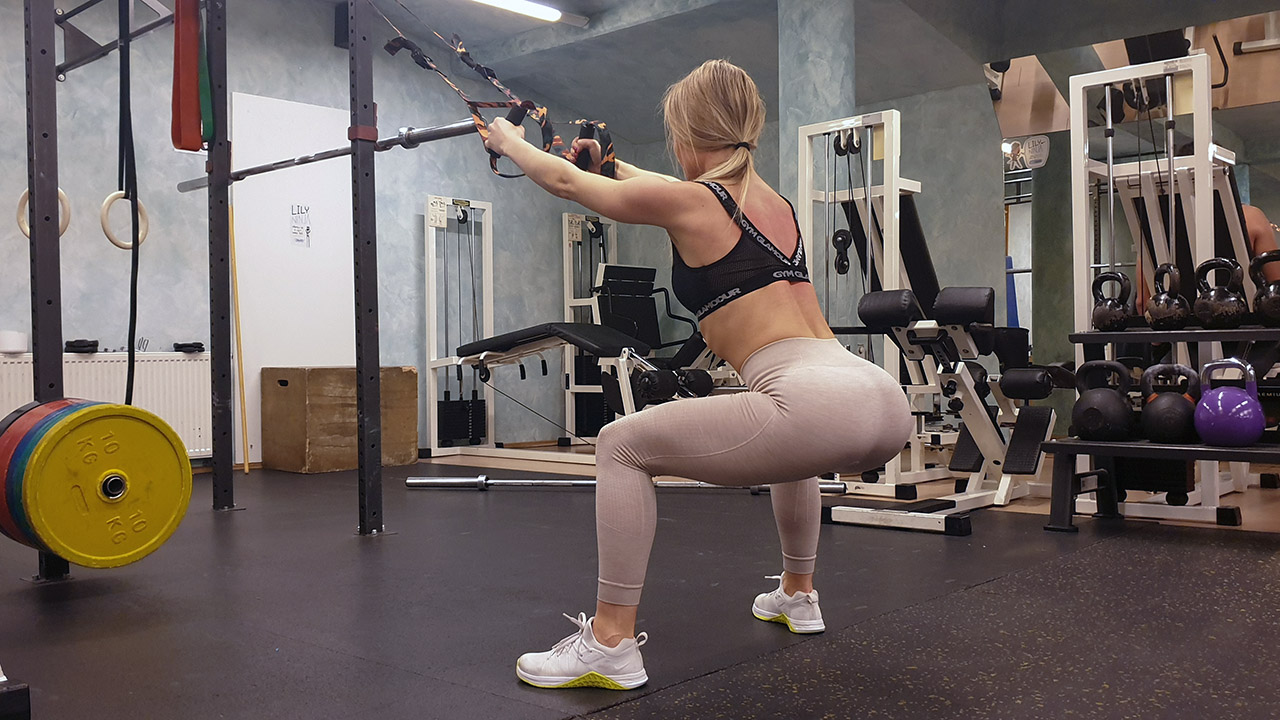 Lightly hold TRX (or chair). Stand on your whole feet, turn your toes slightly outwards. When moving down, push the butt as far back as possible. Squat just deep enough so that your thighs are leveled with the ground. Squeeze your butt when moving up.
Hip Thrust

Lay your shoulders on the bench, hold the bar on your hips. Let your butt go down, keep your back straight. While exhaling, squeeze your butt and quickly return it to its original position. Tip: If you do not have barbell, or the exercise is too difficult, you can exercise without it or put a resistance rubber around your knees.
Lunge with a Gymnastic Ball

Lean on the balloon with your instep, stretch your leg, and make a lunge with your outstretched leg. Then pull your leg back with your knee under you.
Legs Backwards with Gymnastic Ball

Put the balloon between your feet and press your feet into it the entire time. With your knees bent, extend legs backwards, squeeze your butt and return to the original position.
Kettlebell Squat

Stand on your whole feet, turn your toes out slightly. When moving down, push the butt as far back as possible. Just squat deep enough so that your thighs are paralel with the ground. Squeeze your butt while moving up. Try not to lean forward. Tip: You can also use a plate or a dumbbell as a load.
Deadlift from Knees

This is the upper phase of deadlift: from knee to waist and from waist to knee. Drag the barbell along your thighs. Keep your back straight, don''t bend, don''t tilt your head.
Sandbag Cross Lunges

Lunge crosswise behind the standing leg. The front leg remains on the ground with the entire foot. Try to lean forward as little as possible. Hold the load on your back or in front of your chest. Don't touch the ground with your knee.
One-legged Deadlift > Lunge

With weights in your hands, lean forward on one leg with your back straight (a deadlift). Then put your raised leg on the ground and make a lunge. Hold the load in your hands. Tip: Are you losing your balance? Try an exercise without a load or use support of barbell rack.
… We guarantee that after these exercises you will literally feel your butt shaping.
Extra Tips
Exercise regularly and be patient. Rome was not built in a day and even the butt needs some time to take on a new shape. Hold on and you''ll soon be glad you kept up with it.
Remember to drink plenty of water. If you drink enough (at least 2.5 liters a day), you will support fat burning, muscle building and, in addition, cellulite and swelling will improve.
You don't just have a bum! Give love to the rest of your body too, while building your dream behind. Include exercises for all muscle parts in the training plan. Get inspired by top exercises for flat abs and work out your way to a proper sixpack.
Occasionally, include some cardio. If you have an extra fat, remember to add cardio trainings such as running, brisk walking, cycling and skipping rope.
Just like ABS, a nice butt is created in the kitchen too. Support your hard work in the gym with a healthy diet.